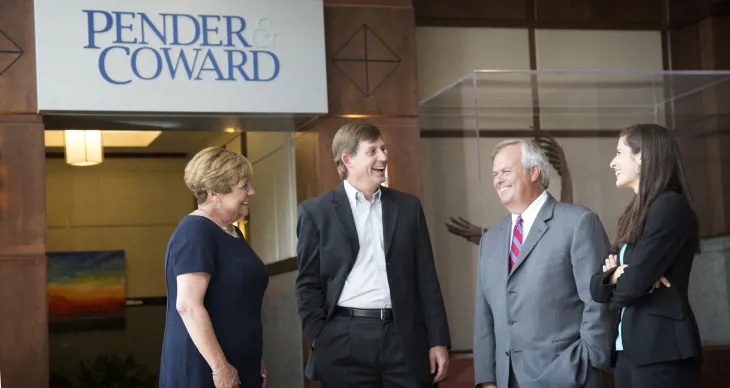 About Us
Pender & Coward lawyers are committed to your success and peace of mind. Our motto is simple, yet effective: "Service. Integrity. Results." Our adherence to that motto transcends the legal services we provide, whether in complicated business law, complex litigation, family law or personal injury. Our attorneys are dedicated to each client's best interests, and strive to provide first rate legal services at a very fair value.
We believe in strong relationships and long-term partnerships. We strive to meet every client's evolving needs. We understand the need to be proactive, and to provide immediate attention to your pressing matters. Legal issues frequently arise without warning, and it is our duty to confront them promptly.
This philosophy is not new or untested. Pender & Coward ranks among the oldest law firms in southeastern Virginia, dating back to 1889 when W.D. Pender first established his legal practice in Norfolk. Since then, the firm has grown to include more than 30 talented attorneys who represent clients throughout the Commonwealth of Virginia and Coastal North Carolina from offices in Virginia Beach, Chesapeake and Suffolk. Our attorneys remain committed to the community and to the local bar by actively seeking opportunities to serve.
Though Pender & Coward is headquartered in Hampton Roads, the firm has established an affiliation with MERITAS, an alliance of independent full-service law firms with offices in every major city worldwide, enabling our firm to connect you with local counsel and experience in all corners of the globe.