Corporate and Transactional
Pender & Coward's Corporate and Transactional practice attorneys advise clients from large international companies to family businesses to brand new start-ups in all stages of the business cycle. We handle matters ranging from business formation, financing, structuring acquisitions and sales, to end stage planning and exit strategies. Our attorneys routinely serve as outside general counsel for small and medium size businesses and assist clients with ongoing business strategy, recurring legal issues, and litigation.
Our corporate lawyers can help choose the right type of entity for a business, organize joint ventures, mergers, acquisitions, affiliations and subsidiaries. We review contracts and leases, and draft agreements tailored to specific business's needs, handle contract negotiations, including franchise agreements, license agreements, service agreements, construction agreements, business succession planning, stock and asset transactions, employment manuals, and more.
We handle matters ranging from business formation, financing, structuring acquisitions and sales, to end stage planning and exit strategies.​Our firm's corporate and transactional attorneys have extensive experience in real estate and construction related issues and understand the unique challenges presented in today's fast-paced real estate industry. We assist clients in acquisition due diligence, environmental matters, and entity structure so that clients can accurately analyze, and wherever possible, avoid, minimize and mitigate risk. We frequently identify tax consequences associated with planned transactions and propose alternative methods of structuring a business transaction in order to minimize tax liability and maximize opportunity. We work seamlessly with our clients' team members, including other professional advisors, to provide the best legal and operational solutions.
We are experienced representing franchisors, restaurants, construction, home services, insurance brokerages, and retail establishments. Our intellectual property attorneys represent inventors, artists, designers, musicians and a broad range of businesses, from the independent personal chef to large international companies, including real estate developers, and investors.
Consulting with an experienced Pender & Coward attorney early in the process of forming a new company, or before selling a business, can help avoid many problems that can arise. Choosing the right entity for your business can save money and protect your existing assets.
Representative Cases and Transactions
Represented franchisee in sale of 22 restaurant operation and negotiated terms with two securitized trusts, the franchisor and franchise holder's association.

Represented national franchisor in the preparation of Franchise Disclosure Documents and state registrations.

Represented client in connection with the asset sale of his military contracting business.

Represented partner in the sale of his partnership interest in a national hotel franchise.

Represented purchaser of a veterinary practice.

Represented condominium association in over $6 million dollar sale and termination of the condominium structure.

Represented owner in sale of successful independent retail store and advised on the financing structure.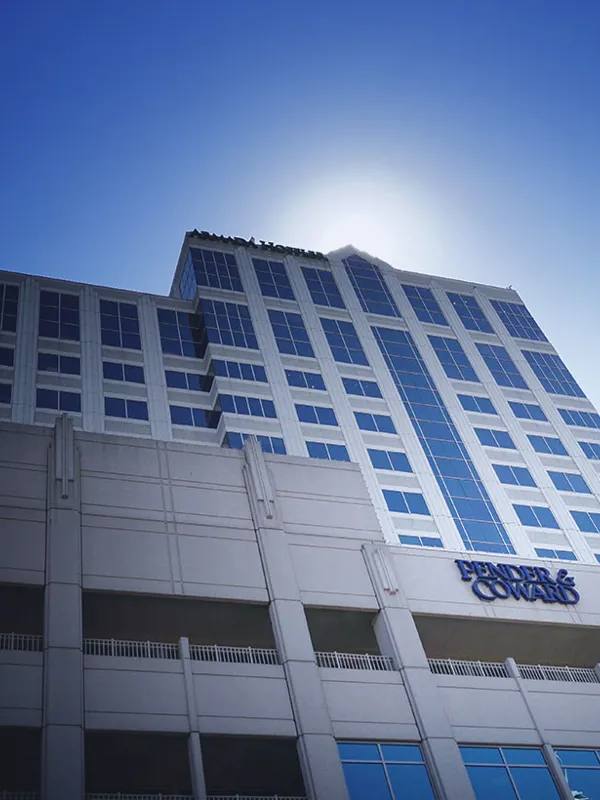 Corporate and Transactional