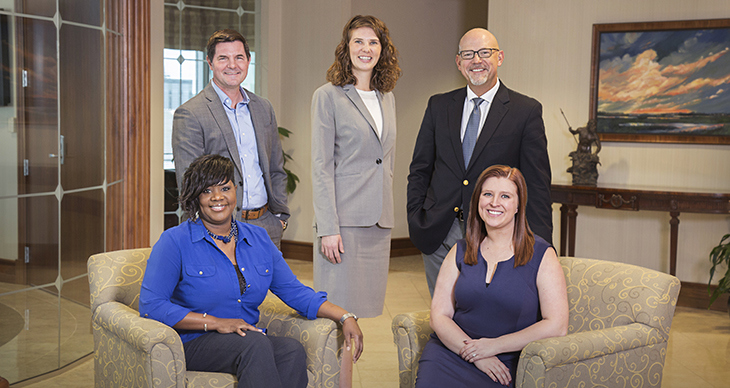 Diversity, Equity and Inclusion
You Are Valued Here
Pender & Coward believes that we must build a culture of inclusivity that celebrates and develops diversity to better serve our employees, clients, and the communities where we live and work. Diversity includes race, ethnicity, gender, age, religion, language, political viewpoints, sexual orientation, and people of all abilities and socioeconomic backgrounds. We value the creative solutions and unique perspectives that people with different backgrounds and varied experiences and viewpoints provide in addressing the wide variety of challenges we face as a law firm and as a broader community. This is critical to our firm's success and our ability to grow and contribute as a member of our community. We are committed to adding and encouraging new voices that reflect our values and to cultivating a work environment where those voices are heard.
Our firm is focused on "Service. Integrity. Results." We acknowledge the work ahead and will measure our progress to ensure accountability.
Diversity, Equity and Inclusion Committee
The firm has a Diversity, Equity and Inclusion Committee (the "DEI Committee"). The DEI Committee includes a group of attorneys and employees who have joined together to help Pender & Coward more clearly define its path forward to a more diverse and inclusive workplace and to propose new policies and procedures that will help the firm attract and retain individuals from different backgrounds.
The DEI Committee wants to hear all voices and viewpoints. Employees and shareholders are encouraged to contact any committee member or email the DEI committee to provide any insights, concerns, or information that they have regarding the committee's mission.
DEI Events Hosted by P&C
On October 19, 2021, Pender & Coward hosted a firmwide training session to learn more about unconscious and implicit bias in the workplace. The event was led by Jonathan Zur, President and CEO of Virginia Center for Inclusive Communities. Employees from all levels and offices and 65% of attorneys attended the event, which included interactive sessions to raise awareness and serve as a catalyst for action. The event concluded with a productive discussion about what individual and structural changes can be made to ensure that biases play no part in how Pender & Coward operates. Receiving a positive response to the training session, the firm's DEI Committee is planning additional firmwide events as we seek to build a more diverse and inclusive workplace.
DEI Commemorations 2021
Human Rights Day
December 10 is celebrated as Human Rights Day (HRD) each year and around the world in countries that are members of the United Nations.  HRD recognizes the United Nations General Assembly's adoption of the Universal Declaration of Human Rights (UDHR) on December 10, 1948.
The UDHR followed the Second World War, the creation of the UN, and the international community's determination to never again allow the atrocities seen in that war to reoccur.  The UDHR recognizes that "the inherent dignity of all members of the human family is the foundation of freedom, justice and peace in the world," and declares that human rights are universal, to be enjoyed by all, no matter who they are or where they live.  The 30 rights and freedoms include, among others, the right to asylum, the right to freedom from torture, the right to free speech, the right to education, and the right to social security, health, and education.  Former First Lady Eleanor Roosevelt and women from many nations deserve much of the credit for the creation of the UDHR.
The UDHR is not a treaty, so it does not directly create legal obligations; however, because countries have consistently invoked its precepts for more than 70 years it has become "binding as a part of customary international law."  The UDHR is available in more than 500 languages and is the most translated document in the world.  This year's HRD theme relates to equality, as expressed in Article 1 of the UDHR, "All human beings are born free and equal in dignity and rights."
To read the UDHR or to learn more about its adoption and application to contemporary conflicts, visit https://un.org/en/about-us/universal-declaration-of-human-rights.  To learn more about HRD around the world, visit https://un.org/en/observance/human-rights-day. 
National Hispanic & Latino Heritage Month
In commemoration of National Hispanic & Latino Heritage Month, Pender & Coward recognizes and celebrates the many contributions, diverse cultures, and extensive histories of the American Latino communities.  Each year, Americans observe National Hispanic & Latino Heritage Month between September 15th and October 15th, significant dates because the independence days of several Latin American countries are celebrated during that time.  As one of our DEI goals this month is to educate, we're providing this link to helpful historical information, resources, and nationwide celebrations for this important commemoration: https://www.hispanicheritagemonth.gov/about/.
Juneteenth
In commemoration of Juneteenth, which this year falls on Saturday, June 19, 2021, Pender & Coward will close its offices on Friday, June 18, 2021.  In doing so, Pender & Coward joins with those in Virginia and other states around the country who honor the emancipation of persons who were enslaved in the United States. As one of the goals of Juneteenth is to educate, we're providing the following links to Virginia House Resolution 56 (adopted in 2007), which officially recognizes Juneteenth in the Commonwealth https://lis.virginia.gov/cgi-bin/legp604.exe?071+ful+HR56ER+pdf and helpful historical information about this occasion https://www.britannica.com/topic/Juneteenth.