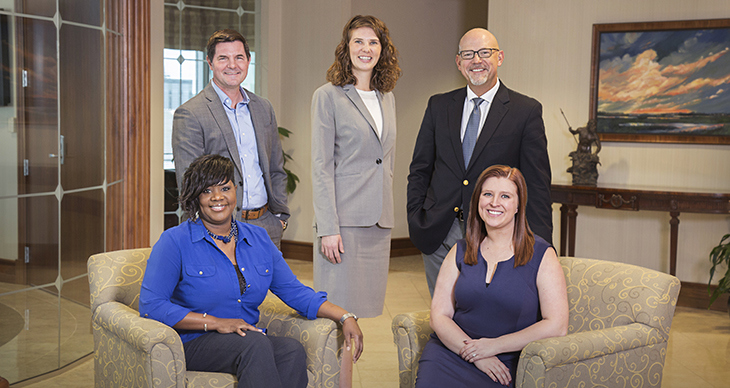 Diversity, Equity and Inclusion
You Are Valued Here
Pender & Coward believes that we must build a culture of inclusivity that celebrates and develops diversity to better serve our employees, clients, and the communities where we live and work. Diversity includes race, ethnicity, gender, age, religion, language, political viewpoints, sexual orientation, and people of all abilities and socioeconomic backgrounds. We value the creative solutions and unique perspectives that people with different backgrounds and varied experiences and viewpoints provide in addressing the wide variety of challenges we face as a law firm and as a broader community. This is critical to our firm's success and our ability to grow and contribute as a member of our community. We are committed to adding and encouraging new voices that reflect our values and to cultivating a work environment where those voices are heard.
Our firm is focused on "Service. Integrity. Results." We acknowledge the work ahead and will measure our progress to ensure accountability.
Diversity, Equity and Inclusion Committee
The firm has a Diversity, Equity and Inclusion Committee (the "DEI Committee"). The DEI Committee includes a group of attorneys and employees who have joined together to help Pender & Coward more clearly define its path forward to a more diverse and inclusive workplace and to propose new policies and procedures that will help the firm attract and retain individuals from different backgrounds.
The DEI Committee wants to hear all voices and viewpoints. Employees and shareholders are encouraged to contact any committee member or email the DEI committee to provide any insights, concerns, or information that they have regarding the committee's mission.
Juneteenth
In commemoration of Juneteenth, which this year falls on Saturday, June 19, Pender & Coward will close its offices on Friday, June 18.  In doing so, Pender & Coward joins with those in Virginia and other states around the country who honor the emancipation of persons who were enslaved in the United States. As one of the goals of Juneteenth is to educate, we're providing the following links to Virginia House Resolution 56 (adopted in 2007), which officially recognizes Juneteenth in the Commonwealth https://lis.virginia.gov/cgi-bin/legp604.exe?071+ful+HR56ER+pdf and helpful historical information about this occasion https://www.britannica.com/topic/Juneteenth.