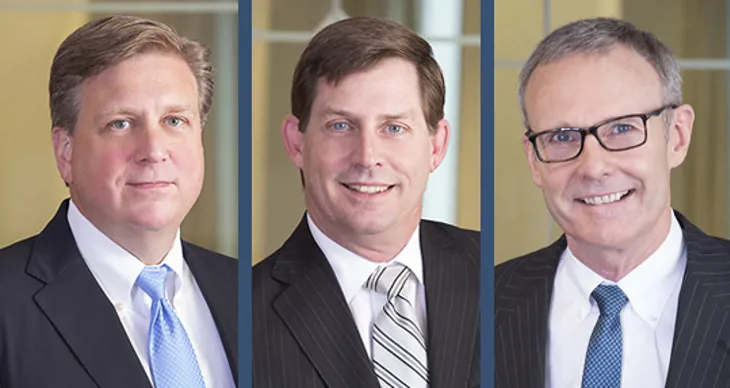 Pender & Coward Announces 2019 Officers and New Leadership
01/14/19
Virginia Beach, Va. – Pender & Coward is pleased to announce that the following shareholders have been elected to serve on the firm's Executive Committee: 
Dave Arnold, Chief Executive Officer – Dave Arnold was elected as CEO after serving on the firm's Executive Committee for the last four years.  He leads the firm's eminent domain practice group and focuses his practice on eminent domain, real estate and business law.  Beginning his legal career as a law clerk at Pender & Coward, Dave now has over 25 years of legal experience representing businesses throughout the Commonwealth of Virginia. 
Mark Baumgartner, Chief Financial Officer – Mark Baumgartner has served as the firm's CFO since 2017.  He focuses his practice on litigation, business and real estate matters.  With over 15 years of legal experience, Mark began his legal career as a law clerk at Pender & Coward after serving in the United States Marine Corps and operating an import and wholesale distribution company.  
Jim Lang, Chief Operating Officer – Jim is a new member of the firm's Executive Committee and serves as COO.  He leads the firm's waterfront law practice group and works to protect Virginians who live, work, and play on the water, especially in proceedings before the Virginia Marine Resources Commission.  Jim joined Pender & Coward in 2005 after completing a 25-year career in the U.S. Navy, including 16 years as a U.S. Navy JAG Attorney.
"I am proud to see our five year succession plan come to fruition.  Our firm has been around for 130 years, and the new generation of leadership will ensure that we're here for our clients for a long time to come." said Rick Matthews after stepping down as the firm's CEO for 20 years.
"This management team is committed to staying ahead of rapid changes in the legal industry and delivering outstanding service at a great value to our clients.  I look forward to continuing our growth into the future as we help communities, businesses, and individuals thrive in Virginia and Northeastern North Carolina." said new CEO Dave Arnold.   
About Pender & Coward
For more than a century, Pender & Coward has been dedicated to the success of its clients, representing businesses of all sizes, governmental entities and individuals. The firm's attorneys practice throughout the Commonwealth of Virginia from offices in Virginia Beach, Chesapeake and Suffolk and remain committed to accomplishing client goals through proven experience, resourceful solutions and effective communication. For more information, visit www.PenderCoward.com. 
###