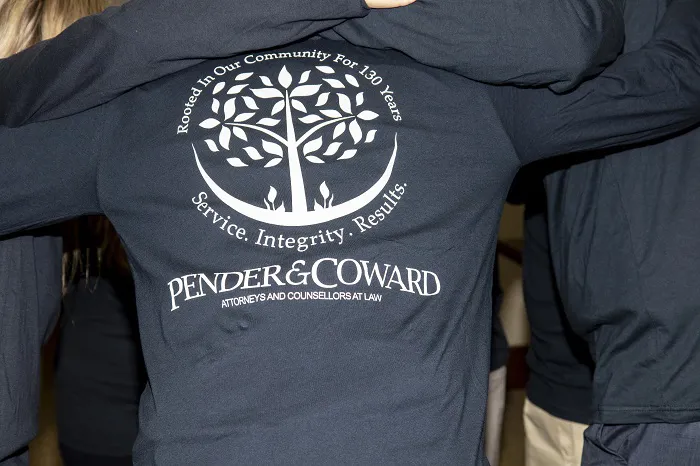 Pender & Coward Celebrates 130th Anniversary with Tree Canopy Community Service Project
06/28/19
Virginia Beach, Va. – It may be surprising to find attorneys on the working end of a shovel.  In addition to cleaning and restoring Hampton Roads' shorelines over the last three years, Pender & Coward is celebrating its 130th anniversary by donating and planting 130 trees in Southside Hampton Roads through a firm-wide Tree Canopy Community Service Project. 
In appreciation for the clients, communities and cities that have nurtured and sustained the firm for 130 years and in keeping with its tradition of community service, Pender & Coward will donate and plant 130 trees to improve the region's tree canopy.  Studies show that improving the tree canopy expands wildlife habitat, diminishes urban heat islands, improves water quality, reduces stormwater management costs and improves air quality, thereby bettering the quality of life for everyone who calls this area their home.  The firm also regularly leads teams of volunteers in waterway cleanups throughout the region that complement the tree canopy initiative. 
The firm has grown from a single attorney, Dorsey Pender, who practiced in a small office in Norfolk in 1889, to a full service law firm with nearly 100 employees and three offices throughout the region.  Over the years, six of the firm's attorneys have been appointed as state and federal judges.  In 2019, Pender & Coward shareholder Richard Garriott was elected as President of the Virginia Bar Association, the first attorney from Virginia Beach to hold that position. 
The firm's 130th year ushered in new leadership.  Pender & Coward transitioned firm leadership from Rick Matthews, who served as CEO for 20 years, to Dave Arnold, who began his legal career as a law clerk at Pender & Coward and was elected CEO after serving on the firm's Executive Committee for four years.  "I am proud to see our five year succession plan come to fruition.  Our firm has been around for 130 years, and the new generation of leadership will ensure that we're here for our clients for a long time to come," said Matthews. 
"We take pride in a history of rolling up our shirtsleeves to work in our communities and look forward to our continued growth as we help communities, businesses, and individuals thrive in Virginia and Northeastern North Carolina," said Arnold.
About Pender & Coward
For 130 years, Pender & Coward has been dedicated to the success of its clients, representing businesses of all sizes, governmental entities and individuals. The firm's attorneys practice throughout Virginia and Northeastern North Carolina from offices in Virginia Beach, Chesapeake and Suffolk and remain committed to accomplishing client goals through proven experience, resourceful solutions and effective communication. For more information, visit www.PenderCoward.com.
###